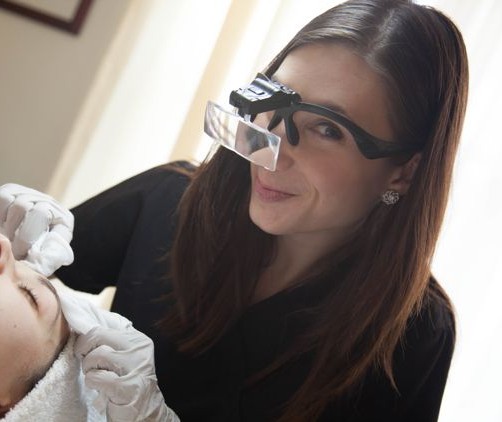 Deborah knows first hand the frustration of dealing with acne. Since she was a teenager, she has struggled with chronic breakouts.  She tried every product on the market that promised clear skin.
In her early 20s, she unsuccessfully tried several expensive prescription creams and pills to treat her acne. Antibiotics helped some, but her skin always went back to its original state when she stopped taking them. Out of desperation, when she was 28, and had struggled to get clear for about 10 years, she finally sought out a facial, hoping it might help. Her esthetician recommended a Rhonda Allison Clear Complexion Treatment facial, and Deborah could not believe the difference it made in the clarity of her skin. Her skin glowed for a week! After this, she became a believer in facials, the power of professional skin products, and was more motivated than ever to start her new career as a skin care professional.
Shortly afterwards, Deborah began her training at the Avenue Five Institute. Eager to learn more specifically about acne, she continued her education after graduation through one of the nation's leading acne treatment clinics, Face Reality Acne Clinic where  treatments and principles are based on the research of Dr. James Fulton M.D., Ph.D., the author of Acne RX.  Dr. Fulton is a pioneer in acne research and helped develop benzoyl peroxide gel and Retin-A.  His comprehensive overview of what acne is, what contributes to it, and the most effective treatments provide a fundamental understanding of this issue.
Due to genetics, Deborah is still prone to acne and breakouts, but she maintains clear skin through regular facials with extractions, sticking to a skin routine with the right ingredients, using "acne safe" cosmetics, and avoiding foods that trigger outbreaks.  She understands acne and is extremely conscious of what she puts on her face – even when the label says "non-comedogenic" or "non-acne causing." She wants everyone affected by acne to know what she wishes she knew earlier in life and help them achieve beautiful skin that glows.