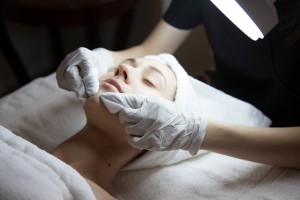 We know acne and will help you get clear and stay clear. No prescription drugs needed.
Acne Treatment and Consultation
For First Time Acne Clients
(90 minutes)  $279
Our acne specialist will diagnose your acne sub-type (inflamed, non-inflamed, combination or rosacea) and identify lifestyle choices and products that may be aggravating your acne. After a thorough skin analysis, we will perform comprehensive extractions and do a light chemical peel or exfoliating enzyme to kick-start the clearing process.  Lastly, we will create a customized home-care routine using products with "acne safe" ingredients and set up a treatment schedule that works with your budget.
**$279 includes the cost of ALL homecare products you will need to get started on your new clear skin regimen. These full-size products include:
Cleanser
Toner
Moisturizer
Treatment Serum
Acne Med
Calming Daily Sunscreen
Acne Treatment
For Established Acne Clients
(30 minutes) $75
Face acne treatment involves deep cleansing with an exfoliating enzyme or light chemical peel and extractions. Exfoliation and extractions allow home-care products to penetrate the pores more easily and facilitate the clearing process.
Back Acne Treatment
For Established Acne Clients
(30 minutes) $75 alone or $45 added on to an acne treatment.
Back acne treatment involves deep cleansing, exfoliating enzyme or light chemical peel and extractions.
______________________________________________________________________ 
Acne Products
Face Reality's skincare line of acne products has been specially formulated and fine tuned to be the most effective home-care products to treat acne. It's not a "one size-fits-all" system like many acne lines. We will test your skin to determine your sensitivity level and recommend strengths of products that will push your skin to clear without excessive dryness or irritation.
Our acne products utilize the most effective, proven acne-fighting ingredients such as Benzoyl Peroxide, Vitamin A and Mandelic Acid. These ingredients are able treat acne by doing the following:
Kill bacteria inside the pore.
Address the build up of dead skin cells by penetrating inside the pores (not just the surface).
Keeps pores from filling up once they are clear.
Fade red or brown acne "scars."
We ask that you stop using any prescriptions when you begin our treatment program. If you are currently using Retin-A or any other prescription topical creams, we recommend you stop using it two weeks before your first treatment so that your skin will be less sensitive and your extractions will be more tolerable. Also, we want to be able to accurately test your skin sensitivity for the strength of products we will recommend you start with. We will use the strongest products your skin can tolerate without irritation. As your skin adapts every few weeks, we will increase the frequency of use or the product strength to push your skin to clear faster.  It is important that you follow home-care instructions and contact us if your skin begins to get too dry.
Taking care of your skin at home, along with regular treatments is the KEY to clearing acne.